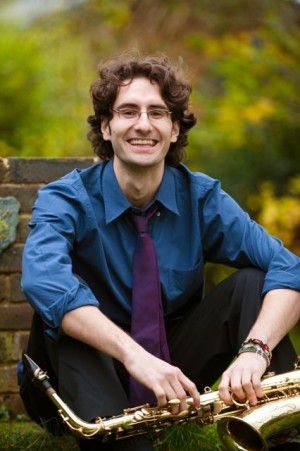 Martino Scovacricchi is a saxophonist, composer and film composer. Born in Costa Rica in 1983 to parents of Italian and Costa Rican heritage and raised in Italy.
Martino is an alumnus of the Berklee College of music where he was granted the North American Scholarship, Martino was also sponsored by DeSono Associazione per la Musica, CRT Master dei Talenti and the Mosco Carener award to study at the Royal Academy of Music in London (PGDip) , where he graduated with a DipRAM. He previously studied at the Conservatorio G. Verdi of Torino (BMus).
Performer/Instrumentalist: Martino works extensively across the UK as a soloist. He has recently self-released his first album of original compositions entitled Melancolia Feliz.(available here). He is a dedicatee of new works by contemporary composers and has delivered world premiere performances in several venues in the UK, Italy, USA, Mexico and Costa Rica including the SouthBank Centre, Ronnie Scotts, Bolivar Hall, Teatro Regio di Torino, Universidad Autonoma de Mexico (UNAM), Teatro Nacional de Costa Rica among others.
Winner of the Costa Rica Young Soloists competition in 2007, he has appeared as a soloist with the National Symphony Orchestra of Costa Rica and alongside international artists including the legendary Hermeto Pascoal, drummer Peter Erskine and harpist Katrin Finch.
An ongoing project is "The Gee Street Art Project" in collaboration with Hong-Kong artist Hin, where music is improvised music by looking at the paintings. As a multi-instrumentalist, Martino has recently gained his bachelor degree in cello performance under the guidance of professor Dario Destefano from the Conservatory of Adria, Italy.
Film Composer/Composer: As a composer Martino has a versatile and simple style, often using odd rhythms writing. He has been commissioned to compose music for bassoon by the renowned English bassoonist John Orford and the National Museum of Cinema of Turin.
Teachers and mentors include Conrad Pope and Christopher Young, distinguished Hollywood orchestrators/composers, respectively.
Film credits include Discovering Latin America Film Festival (DLAFF), Odense Filmværksted Productions, Press TV Documentaries, Callum Murphy Films and Gori Productions.
To listen to Martino's original compositions refer to the media section of this website. To listen to music written to picture please click here.
Educational/Charity projects: Martino is a very experienced teacher running workshops and master classes in Mexico, UK and Italy. He is the founder and director of the London Saxophone School, the first of its kind in London, which provides saxophone tuition from beginners of any age to music college level students.
In order to improve musicians' awareness in performance Martino is about to publish the educational manual" Yoga for Musicians, developing awareness in musical performance through yoga" which explores the role of the mind during performance and how to control it implementing specific yoga postures.
Martino works in close collaboration with the Brazilian charity AmazonArt and the Ride for Good project. AmazonArt provides free musical education and concerts in poor and deprived areas of the Amazon region, as an alternative activity to help tackle social problems such as crimes, violence and drugs.
The Ride for Good project was formed to explore music traditions from Berber (Amazigh) people in Morocco, developing a teaching path in schools and villages.
Endorsement: Martino Scovacricchi is a Ligaphone artist.